12 janvier 2008
A comment of CDR Franssen (going more or less along those lines: "maybe the Zhos don't wear ranks at all, like prior 1955 PLA; officers recognizing themselves by wearing a pen sticking out their pocket") made me think of rank cylinders worn by IN officers in Star Wars.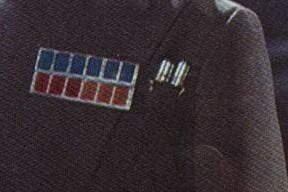 What about the Zhodani wearing some kind of personal 'psy transponder' broadcasting their rank to any psy around (i.e. every officer)?

They would be using a technology called psy-tags (inspired by the psy-switches described in GT:AR1). Psy-tags would be a basic psychotronic component broadcasting a single psy "word" (be it an actual short sentense, an image or even a smell or an emotion) to any psy a few meters away, regardless of the exact nature of his powers. This component has a variety of use ranging from noble only warning signs, precious objects nametags and rank cylinder...
The fact that only officers can read them make some sort of other rank device, readable by proles, needed... Wich makes me wonder: are those cylinder of any use at all?
Commentaires sur Zhodani Rank Cylinders